Audi e-tron GT Charging System
Audi e-tron GT includes a portable charging system for temporary level 1 and level 2 charging.
The Charging System Compact is not the charger, technically speaking. This equipment is known as EVSE (Electric Vehicle Supply Equipment) and serves as a controller that ensures safe power delivery between your home and the vehicle. Every Audi e-tron GT comes equipped with this charging system as standard.
For Levels 1 (120 volt AC) and Level 2 (230/400 volt AC), the actual charging process takes place via the vehicle's own on-board charger. The onboard charger converts AC power from your home into DC power, which is what batteries use to store and supply energy.
It is currently available in two versions and is meant for use when a fixed level 2 or level 3 installation is not available and you need to charge your e-tron from a domestic or industrial AC socket.
In the US the charging system has a J1772 connector to connect to the car, while in Europe it has a Type 2 connector.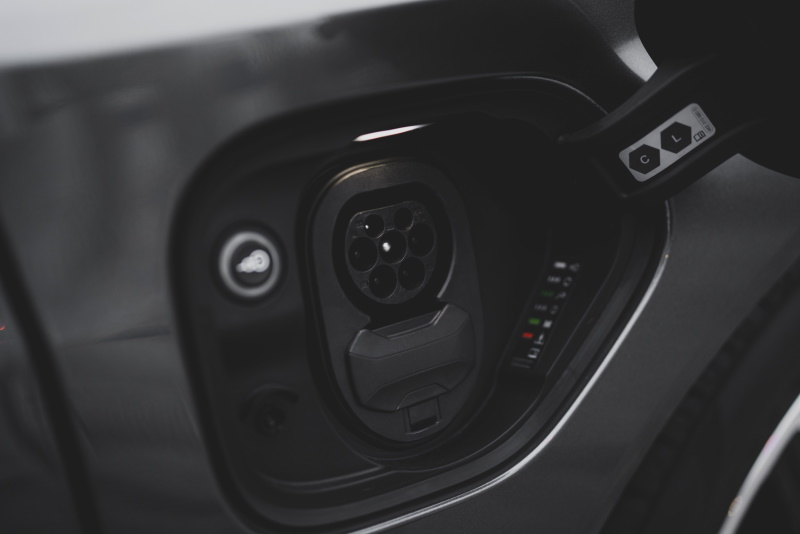 e-tron charging System Compact
The charging system compact is the standard system provided with e-tron.
It comes in different versios based on the country it sells. In some countries in Europe you can choose between a 230-volt system and a 400-volt system when ordering the car.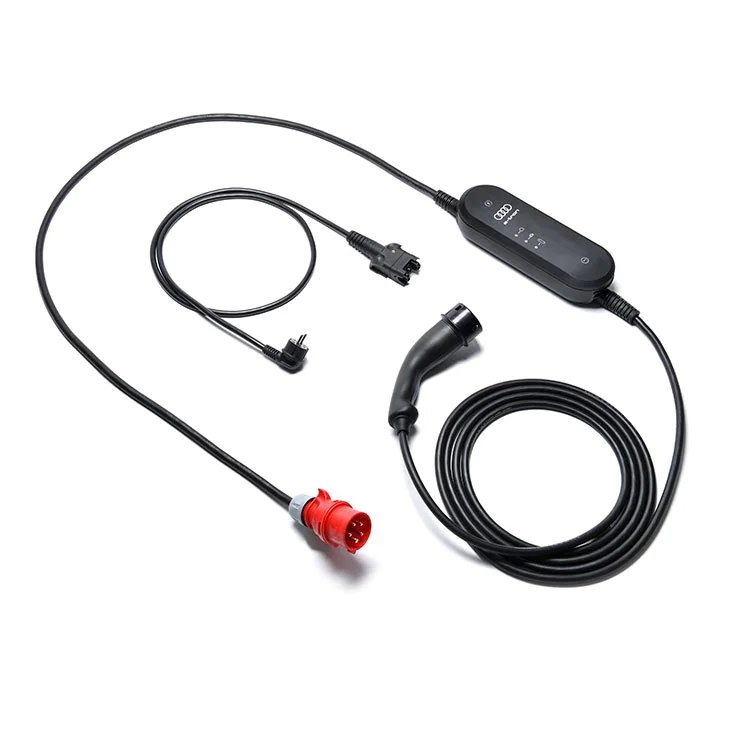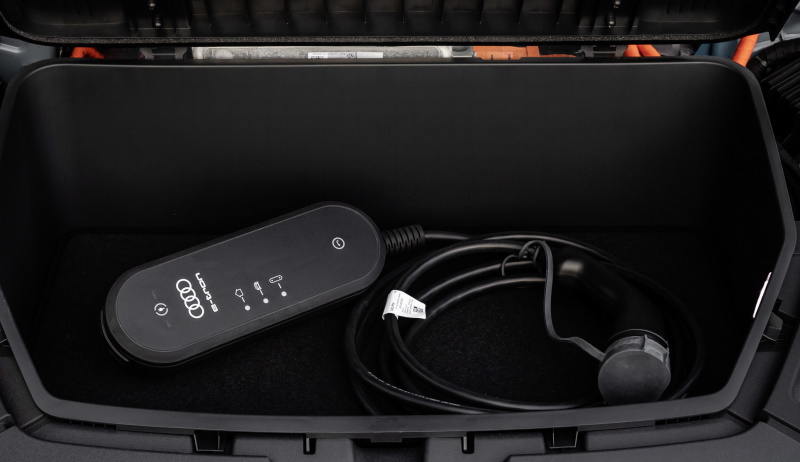 e-tron charging System Connect
The new charging system connect, is also designed for a charging capacity of up to 22 kW from a industrial 400 Volt AC power outled.
It is designed for use at household outlets and can thus also be used when away from home. Using a suitable domestic installation, the e-tron 55 models can be fully charged in just under five hours.
The charging system connect comprises an operating unit with a 5-inch touch display and a wall mount.
Its Wi-Fi internet connection enables both control via the myAudi app and function updates.
Audi recommends a three-phase, 400-volt outlet for optimal use of the charging system connect.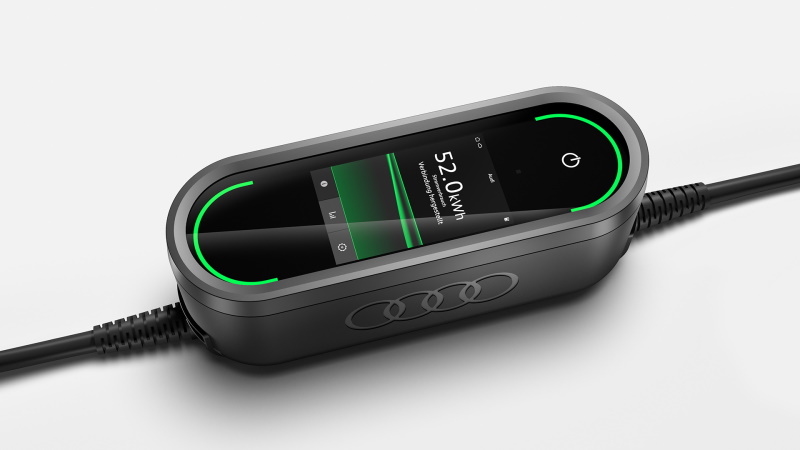 In conjunction with a compatible home energy management system from SMA Solar Technology or the Hager Group, the e-tron charging system connect offers additional, intelligent functions.
For example, the Audi e-tron GT can take account of the needs of other consumers in the household and charge with the remaining power available in order to avoid overloading the home electrical system.
The charging system also allows customers to define individual priorities, such as charging when electricity is less expensive under a variable electricity rate.
If the home is equipped with a photovoltaic system, the car can be charged preferentially using the electricity generated by the system. Charging planning then considers forecast periods of sunshine. Additional features of the e-tron charging system connect include PIN protection against unauthorized use and the recording of charging energy.
The system has optionId NW2
Capacity based on network / outlet
| Connection | Plug | capacity | charging 100% e-tron 55 |
| --- | --- | --- | --- |
| 120Volt | Level 1 Domestic NEMA 5-20 | 1.2kW | 76 hours |
| 240Volt | Domestic NEMA 14-50 | 9.6kW | 9.5 hours |
| 230Volt | Domestic Type F | 1.8kW | 50.5 hours |
| 400V 32A 3phase | Red Industrial | 22KW | 4.5 hours |
| 400V 16A 3phase | Red Industrial | 11KW | 9 hours |
| 230V 32A 1phase | Blue Industrial | 7.2KW | 11.5 hours |
| 230V 16A 1phase | Blue Industrial | 3.6KW | 23 hours |
Use with caution
For home use, it is highly recommended that you use a fixed installed wall charger to reduce the risk of fire. Domestic outlets typically are not created for supporting high current over many hours like EV charging.
That's why the portable charging system often is called an "emergency charging system".
Using the same outlet over time causes stress to the outlet and there is a high risk for a meltdown. Below you see some pictures of outlets that melted for e-tron owners that did not install a hardwired charging system. This is not a specific Audi issue, but relevant for all EVs that charge with high current.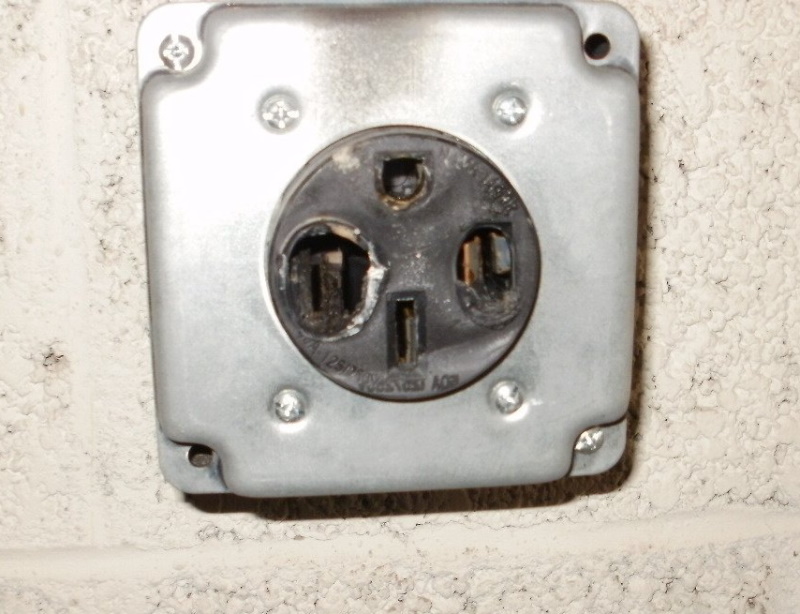 For home use you should install a hardwired charging solution. There exist many providers of these type of equipment.
They run on 230/240 or 400 volt depending on network in your home.